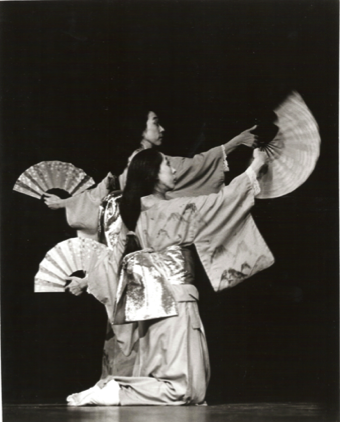 Tokunaga Dance Ko. (TDK)
Founded by two sisters, Emiko and Yasuko Tokunaga, TDK is a traditional hybrid of American and Japanese philosophy in their teaching, choreographing, lecturing, and designing (costume, production). The Tokunaga family in America represents the 17th samurai generation.
TDK performed over 2,000 times nationwide and internationally. The company repertoire consists of over 100 works and more than a dozen productions all choreographed by the Tokunagas. TDK has received funding from the National Endowment for the Arts (17 years), NYC Department of Cultural Affairs (10 years), and countless corporations and foundations.
Their "Japanese Culture through Dance" program toured nationally throughout the US, and their "Made in America" program toured through seven cities in Japan. Recognizing TDK's cross-cultural capability, the Japan-US Friendship Commission (an agency of the US government) sponsored company tours to represent Japan to Americans and America to the Japanese. For the advancement of cultural understanding and friendship between US and Japan, TDK received countless meritorious awards including the key to Nara City.
They have conducted workshops and masterclasses in over 60 institutions, as well as developed and designed unique programs, concerts, and courses at The Boston Conservatory, Harvard University, among others. In 1976 TDK opened a dance studio that offered ballet and modern dance classes in the Tokunaga Technique. The Tokunagas have been recognized for their "team teaching" and "coordinated concepts" (a sophisticated teaching method stressing commonalities and differences found in ballet and modern techniques) by Dance Magazine in May 1976 and in February 1992 wrote "…some of the most creative and imaginative teaching to be offered to the dance world. …the teaching of dance becomes truly an art." The Tokunagas have been praised as "Teachers-of-the-Month" by Attitude and co-authored two articles in Dance Magazine in September 1994 and July 1995. Half-hour specials have been aired on WNYC AND WNYE-TV.
TDK produced 12 "Celebrate Asia" festivals for the NY and Queens Botanical Gardens. The Tokunagas are available for lectures, masterclasses, and consultation (performance, panels, discussions, etc.) to help audiences become more informed, inquisitive, and inspired about the Asian spirit.